Governor DeSantis Ends Additional Federal Unemployment Subsidy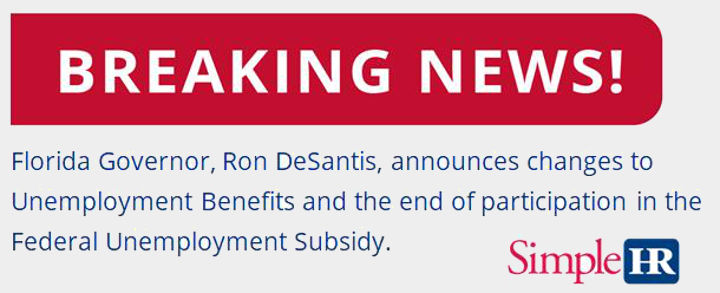 In an effort to return to normal work conditions, beginning on May 29, 2021, Floridians claiming unemployment benefits must search for jobs to continue to receive unemployment benefits. Pre-pandemic Florida law will go back into effect as of this date. Anyone seeking unemployment benefits must contact five employers each week in order to receive unemployment benefits.
Several U.S. states are taking actions to encourage the unemployed to find work amid labor shortages. Governors in 22 states have already withdrawn from the federal unemployment benefits. On Monday, Governor Ron DeSantis' administration officially announced that Florida is also withdrawing from the federal pandemic assistance program that offered a $300.00 per-week boost to state unemployment benefits. The supplemental Federal Pandemic Unemployment Compensation program payment will end June 26, 2021.

The announcement comes after the labor department said April labor statistics showed private sector employment increased by 18,800 jobs and more than 460,000 online job postings were available throughout the state. This is good news for the Panhandle businesses who are struggling to fill openings due to the combined state and federal benefit amount exceeding the amount earned regularly by employees.

As Florida's employers are seeing employment growth, The Department of Economic Development Secretary, Dane Eagle said, "Transitioning away from this benefit will help meet the demands of small and large businesses that are ready to hire and expand their workforce."

SimpleHR prioritizes the management of unemployment claims at all times. We have placed emphasis on assisting eligible employees to gain unemployment wages during the pandemic while also preventing fraud, misuse and misrepresentation for our clients. We explore all claims with particular attention to those that refused an offer of employment and those who opted to remain on unemployment when recalled to work.

Consider Us a Resource

When you outsource your human resource responsibilities to SimpleHR, we manage your greatest resource - your employees. For over 18 years, SimpleHR has served this community as the most trusted professional employee management company in our area. We are dedicated to providing our clients with human resource solutions, payroll administration, benefits, and the highest standards of customer service.

Are you ready to focus on the core of your business? Start by exploring services with a SimpleHR expert!