Beat the heat: Join OSHA's WATER • REST • SHADE campaign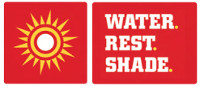 Prevention of heat stress in workers is important. Heat Distress can lead to serious physical illness, fatigue and injury. It's not just outdoor workers that are at risk for heat distress, those that work in hot environments such as kitchens, maintenance shops and laundries may also be impacted. The Risk Management professionals at SimpleHR help to identify potential hazards in the workplace, minimizing risks and creating a safer environment for our clients and their employees... Read More
According to OSHA, thousands of workers become sick from occupational heat exposure annually. However, heat-related illnesses can be prevented. Employers are encouraged to proactively manage heat stress by implementing prevention steps through environmental workplace controls, work practices and use of acclimation and training programs. The Water • Rest • Shade campaign from OSHA provides valuable online resources to educate employers and employees regarding heat safety. Training staff how to identify and react to heat related illness can save lives!
OSHA Heat Safety Tool APP – Free download!
As part of the Water • Rest • Shade campaign, OSHA has released a Heat Safety App which is available for free download on Google Play and iTunes and to monitor heat indexes and provide tips to workers and management for the prevention of heat illness. For information about the app and other resources regarding Heat Stress and Acclimation programs, visit the
OSHA web site
.